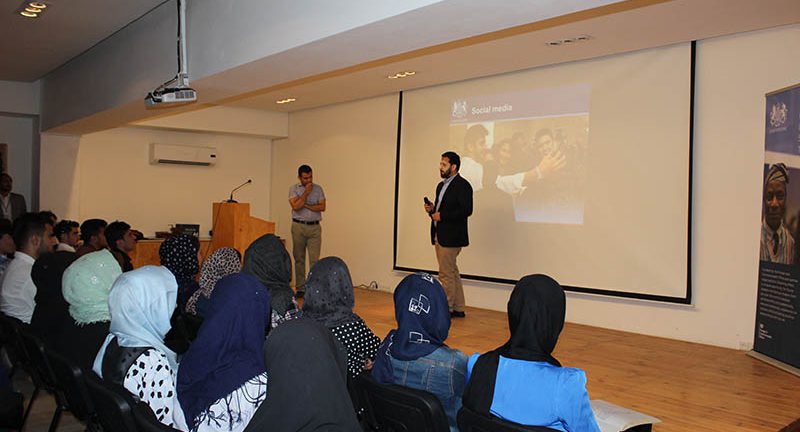 Afghanistan Centre at Kabul University (ACKU)
Consulate and Designed a pre –planned during discussion with the internal staff of SAHERO to select and conduct Chevening Scholarship information session in Kabul. During the reporting period of September 2016 the SAHERO management has made great Preparation and efforts to conduct a successful Chevening Scholarship information session in Afghanistan Centre at Kabul University (ACKU) on Sept 7 .2016. Encouragement and motivation of Female Post Graduate Students to participate fully and actively in the Chevening Scholarship sessions. Preparation Checklist of all the materials for the information session. Participation of recent Afghan Chevening Scholarship awarded candidates in this information session for the encouragement of new applicants. Time for Q&A and open discussion with Chevening Scholars and sharing their experiences after the session
ACTIVITIES
Before conducting Chevening Scholarship Session in Kabul SAHERO had many options, which were discussed during the internal meeting of management in SAHERO office. And after deep discussion and Consulate. We have prepared and designed a pre –planned to select a specific day and venue to conduct Chevening Scholarship information session in Kabul.
And we have finally selected Afghanistan Centre at Kabul University (ACKU) to conduct the Chevening Scholarship information and after telephonic conversation with the concerned department we have made a visit to see in person with Mr.Reza Hussaini the Research Manager and Jebrael Amin Communication Officer. We have updated him regarding Chevening Scholarship Program, he was very delighted to hear about such a wonderful scholarship program of Masters in UK. And later on MoU was signed between ACKU and SAHERO.
One of the most indispensable way to attack more students for the information session we have stuck some Chevening Scholarship Banners ,Side Stand Banners and Leaflets to update and send a message to interested students whom are willing to study One year Master Degree in of the UK world Class Universities. And thanks to Afghanistan Centre at Kabul University (ACKU) for putting our advertisement in their social media page to informed eligible students to participate in this session on September 2016.
SAHERO has put all its effort to make all the preparation well enough. And according to the checklist materials were taken to ACKU a day before the session.
SAHERO aim is to encourage and motivate Female Post Graduate Students to participate fully and actively in the Chevening Scholarship sessions because it is a golden opportunity to study in UK and obtain a master dear in one year. And meet with other Chevening Alumni.
The opening of this information session was done by Mr.Reza Hussaini the Research Manager of ACKU and Mr.Zabi Obaidi has led the presentation from the front.
To make this even more vital and vivid SAHERO has decided to invite some of the Afghan Chevening Scholarship Program Students to participate and share their experiences with the participant's .and of course, it was the best platform for the new Chevening Scholars to express and deliver indispensable messages to new applicants.
Giving time satisfactory responses to each question of the participants made this information more useful and SAHERO has arrange a spear time to meet with these Chevening Scholarship awarded candidates to have open discussion.
We are very much delighted by the active and fully participation of both male and female students during this Chevening Scholarship information session.
Ideas have the way of taking shape first step cannot be the beginning of a panorama, but Chevening Scholarship is the UK government global scholarship program in 160 countries.
It is really great to see afghan students among the 46000 Chevening Alumni that is why SAHERO encourages more students to apply and to be benefited from this great opportunity.
During this information session both male and female students have fully and activity participated and shown great interest in this scholarship program. They were really keen and found of criteria of Chevening Scholarship program and we really motivated young female intellectuals to be a future leader and great influencers for Afghanistan.
You can see a massive number of students have participated in this session and they were welling to be part of the Chevening Scholars.
The last session of this event was open discussion with the Afghan Chevening Scholarship Awarded students.